Canva tips – Help you realize Canva's full potential
Admin
Weekly Design Tips 
TIP 1
Easy charts
Creating a custom chart or graph for your design is simple. Just click on Elements and search for a 'graph' or 'chart' to include in your design. To customize the data click Edit in the top panel and add it manually or paste it directly from a spreadsheet.
TIP 2
Color harmony
We've created hundreds of specifically curated color palettes that you can quickly apply to your design. There are two ways to do this:
1. Open the More tab in the side panel and click Styles to scroll through the trending color palettes. When you find one you like, just click to apply it to your whole design.
2. If you need even more inspiration, simply hit the button below to explore hundreds of curated color palettes and copy the ones you love to your designs.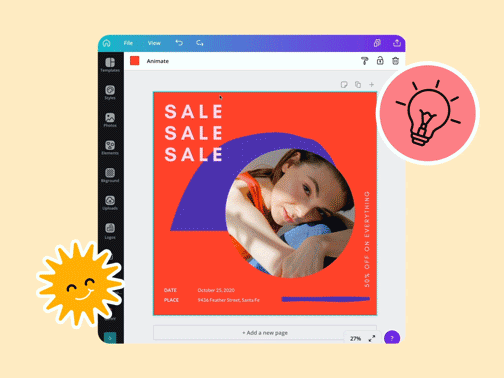 TIP 3
Staying on brand
Brand Kit available on Canva Pro delivers consistency every time. To create one, simply navigate to your team on the Canva homepage. Choose Brand Kits. Then choose your colors, fonts for headings, subheadings, and body copy, upload your logo files, and you're ready to go.